Welcome to the Online home of
Glasshouse Country & Peachester Uniting Church
Twin Peaks Drive, Beerwah Q 4519     All mail to: P.O Box 375 Beerwah Q 4519
All email to: churchgcuc@gmail.com
Church Phone: (Message) 07 5494 6187
Rev:  Costa Stathakis   0424427425
Location   
Glasshouse Country Uniting Church is situated just off Steve Irwin Way, via Tobacco Road then turn right into Twin Peaks Drive Beerwah.  With a backdrop of the mountains we certainly feel God's majestic presence.
Glasshouse Country UC   –  Worship Service 8:25am Sundays     Holy Communion 1st Sunday of the month
Glasshouse Country & Peachester Uniting  Church is a multi-cultural, outreaching and caring Congregation working to serve God in Glasshouse Country via  Wednesday morning Playgroup, Thursday ConneXion, Bible Studies, Prayer Links, Friendship Luncheons, and special celebration   brunches, plus, quarterly "Guess who's coming to Dinner" events, Car boot Sales, and free Bread distribution 5:15 pm each Tuesday and Thursday at the property in Beerwah.
The Church building  in Beerwah was opened 16th December 2000 merging  the "Railway Towns" Uniting Church's Congregations of Glasshouse, Beerwah, Landsborough and Mooloolah.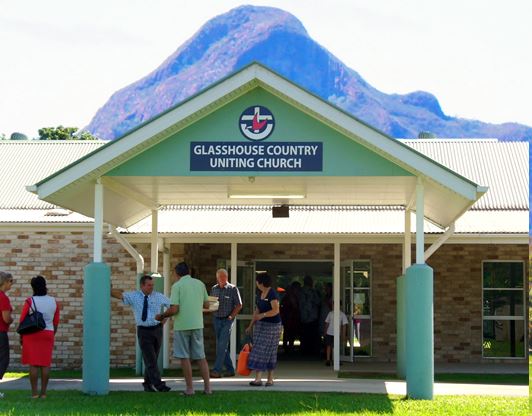 We work ecumenically with other denominations in the area supporting Beerwah High & Glasshouse Country Primary school chaplaincies with fund raisers.